Ghana: Reproductive Health and Abortion
Legality:

Since 1985, abortion has been allowed in cases of rape or incest, if the life or health of the woman is in danger, or if there is risk of fetal abnormality.
To ensure safety of legal abortions, in 2006 the Ghana Health Service and the Ministry of Health established protocols for comprehensive abortion care and called for more providers to perform 1st trimester procedures.
Unawareness of the legality is a challenge: in 2007 only 3% of pregnant women and only 6% of those seeking an abortion knew abortion was legal.

Contraception:

In 2008, only 17% of married women and 28% of sexually active unmarried women were using modern contraceptives.
37% of pregnancies are unintended (23% mistimed and 14% unwanted).
7% of all pregnancies end in abortion, and yet 15% of women admitted to having an abortion.

Complications:

45% of abortions are unsafe.
Unsafe abortion is the 2nd leading cause of maternal mortality (11%).
13% of women who have had an abortion experience complications from unsafe procedures, and less than half of them received the needed medical treatment.
Women who are poor, young, have multiple children, or do not have financial support from a partner are the most likely to have an unsafe abortion.
Sources:

https://www.guttmacher.org/fact-sheet/abortion-ghana
https://www.guttmacher.org/news-release/2010/unsafe-abortion-major-cause-maternal-death-ghana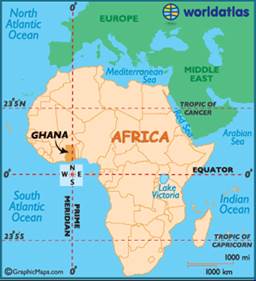 GDC/Ghana: Recent Accomplishments 
Shared expertise to advance local, regional, and global advocacy:

Attended the International Women's Health Coalition's International Conference on Conscientious Objection in Uruguay to present their experiences in Ghana.
Interviewed and quoted frequently in local media regarding reproductive health issues, including safe abortion.

Mitigated conscientious objection (CO) to abortion:

Finalized its study that assessed the prevalence of conscientious objection (CO) and gauged the acceptability of CO regulation in the three regions of Northern Ghana: the Northern, Upper East, and Upper West regions.

While nearly half of providers surveyed – who were trained and qualified to provide legal abortion care services – objected to providing abortions, the majority supported a national policy guideline to regulate CO, mandatory health facility guidelines for abortions, and holding health managers responsible for ensuring compliance of these guidelines.
Shared their CO expertise – including the CO survey results and policy recommendations – during a GDC/Ghana and IPAS co-hosted one-day conference, at the African Abortion Research to Policy Conference in Ethiopia, and via publications in PLOS ONE, Ghana Web, and the International Journal of Gynecology and Obstetrics (FIGO).
Expanded CO research to the southern belt to increase abortion access throughout Ghana.
Aimed to create an intervention plan to reduce the number of providers lost to CO, and thus increase access to safe and legal abortion in Ghana.

Engaged in political advocacy:

Outlined key policy implications in a Policy Brief to Regulate the Application of Refusal of Care for Legal Abortion Services, and will share with the Ministry of Health. Potential interventions include:

CO guidelines for health facilities,
abortion service provision training,
abortion awareness campaigns for the general public,
provider value clarification workshops to increase the number of providers,
abortion law education specifically for male providers, and
changing the law to allow trained nurses and physicians assistants provide abortion services.
GDC/Ghana: Leadership
Dr. John Koku Awoonor-Williams is the founder and lead doctor of GDC/Ghana and a member of the GDC Board. Dr. Peter Baffoe is the co-lead doctor for GDC/Ghana.
GDC/Ghana's lead doctors are supported by an Advisory Committee that includes medical and public health experts.
GDC/Ghana is registered in Ghana as a nonprofit.
GDC/Ghana: Lead Doctor Profiles

John Koku Awoonor-Williams, MD, MPH, MPP, PhD
GDC/Ghana Lead Doctor and GDC Board Member
Dr. John Koku Awoonor-Williams is the Director of Policy Planning, Monitoring, and Evaluation for the Ghana Health Services, and the architect of Ghana's Community-Based Health Planning Services (CHPS) strategy. He also is a Senior Lecturer at the Columbia University Mailman School of Public Health, a founding faculty of Columbia University's Advancing Reproductive and Community Health Systems (ARCHeS) of the Heilbrunn Department of Population and Family Health, a member of the Research, Monitoring and Evaluation Committee of Ghana AIDS Commission, and Chair of Ghana National eHealth Project for which he also coordinates the Ghana Telemedicine Project. Previously, he was Regional Director of Health Services for the Upper East Region of Ghana, District Medical Officer for the Nkwanta District of Ghana, Co-Principal Investigator (Co-PI) for the Ghana Essential Health Intervention Project (GEHIP), and currently Co-PI Implementation of CHPS.
Peter Baffoe, MD, MPH
GDC/Ghana Co-Lead Doctor
Dr. Peter Baffoe serves as a UNICEF Health Specialist at the Ghana Country office in Accra. Previously, he was the senior specialist Obstetrician/Gynecologist and the Medical Director of the Upper East Regional Hospital in Ghana. During that time, he served as the sole OB/GYN for nearly eight years in the Upper East Region, one of the two most deprived and impoverished regions of Ghana. As a passionate defender and advocate for safe motherhood, he strongly believes in the imperative to guarantee women's safety during the entire reproductive process and ensure the right to reproductive health, and is committed to making this a reality in the communities of the Upper East Region of Ghana and worldwide. Dr. Baffoe completed his medical training in obstetrics and gynecology at the Instituto Superior de Ciencias Médicas in Cuba, where he was honored with the Specialist/Gynecologist Award. He holds Masters in Public health from Royal Tropical Institute in Amsterdam and is a fellow of the Ghana College of Surgeons.